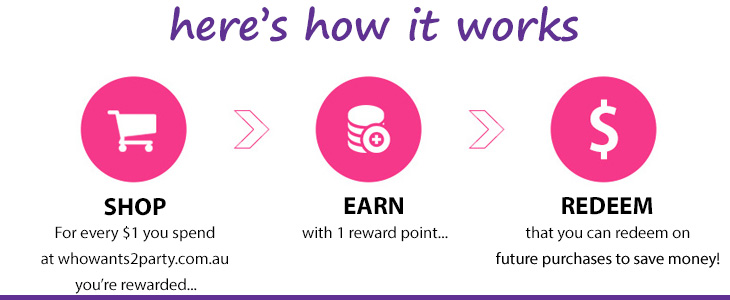 Reward Points is our way of thanking and rewarding our loyal customers for buying your party supplies from whowants2party.com.au. The points are awarded automatically when we ship your order.
Points are added to your account for all the orders you make, meaning that return customers can quickly build up a large number of points - the more you spend, the more you save.


1 point is equal to $0.10.

You can redeem your points whenever you like, whether you have 15 or 200 points. Points can be redeemed at checkout if you choose to use them for your order. You may only use one discount method per order. If you wish to redeem your points, you will not be able to apply a discount code to your order.


You can also check your points balance by logging into your account. Under the tab 'Loyalty Reward Points', you can check your current point summary, along with a history of when you spent them.
Note: Points can not be earned on shipping charges and discount vouchers applied to the order.